Meet the researchers tackling glaucoma
From pre-clinical research through to patient trials, CERA researchers are looking at ways to better understand glaucoma, improve diagnosis, and develop new treatments.
During World Glaucoma Week, CERA researchers will be standing up as part of a global campaign to raise awareness of the world's leading cause of irreversible blindness.
"It's estimated that in Australia about 300,000 people have glaucoma but around 150,000 don't know they have it," says CERA Managing Director Professor Keith Martin, a glaucoma specialist and vision scientist.
"Sadly, once vision is lost there is no way of restoring sight. Also, current therapies don't work for everyone, with about 15 per cent of patients continuing to lose their sight despite treatment.
"That's why our team is passionate about the critical role of research in finding better ways to detect and treat the disease.''
Starting with pre-clinical research in the lab all the way through to patient trials, CERA researchers are looking at ways to better understand the disease, improve diagnosis, and develop new treatments to save people's sight.
Starting in the lab
CERA's basic scientists are examining key elements of the complex transport system that sends signals between the eye and brain and enables us to see, as well as how glaucoma stops this from working.
Principal Investigator of Neurodegeneration Research Associate Professor Ian Trounce is investigating how changes in the DNA of the mitochondria, the tiny batteries which power our cells, could cause optic nerve damage.
Professor Martin's research group, a collaboration between the universities of Melbourne and Cambridge, is investigating potential gene therapies to strengthen the optic nerve and protect it from damage.
Meanwhile, CERA's newest research team, Visual Neurovascular Research, led by Dr Luis Alarcon-Martinez, is examining the intricate, never-before-seen processes that regulate blood supply to the cells of the retina.
Early detection
As research tells us more about what causes glaucoma there is also an opportunity to get better at identifying early signs of disease.
CERA's Clinical Genetics team, led by Professor Alex Hewitt, has been part of a research collaboration to identify the genes that put someone at risk of glaucoma.
Professor Hewitt and his team worked with colleagues from QIMR Berghofer Medical Research Institute, Flinders University and others, to pinpoint genes which could eventually be used in screening to more accurately predict glaucoma risk.
CERA's new Clinical Biomarkers team, led by Dr Zhichao Wu, is using artificial intelligence and state-of-the art imaging techniques to identify new clinical biomarkers for glaucoma. These biomarkers could be used to detect the disease earlier as well as provide personalised treatments to help prevent vision loss.
Imaging and AI are at the heart of several CERA projects. Innovative research by Dr Xavier Hadoux and Associate Professor Peter van Wijngaarden is investigating biomarkers of Alzheimer's disease, diabetic retinopathy and other eye conditions.
And pioneering research by Professor Mingguang He is using artificial intelligence to develop technology that will increase access to eye screenings in remote and regional areas where there is a shortage of eye care professionals.
CERA's Health Services Research Unit, led by Peter Larsen, is continuing its research to improve early glaucoma detection rates and eliminate undetected glaucoma in our community.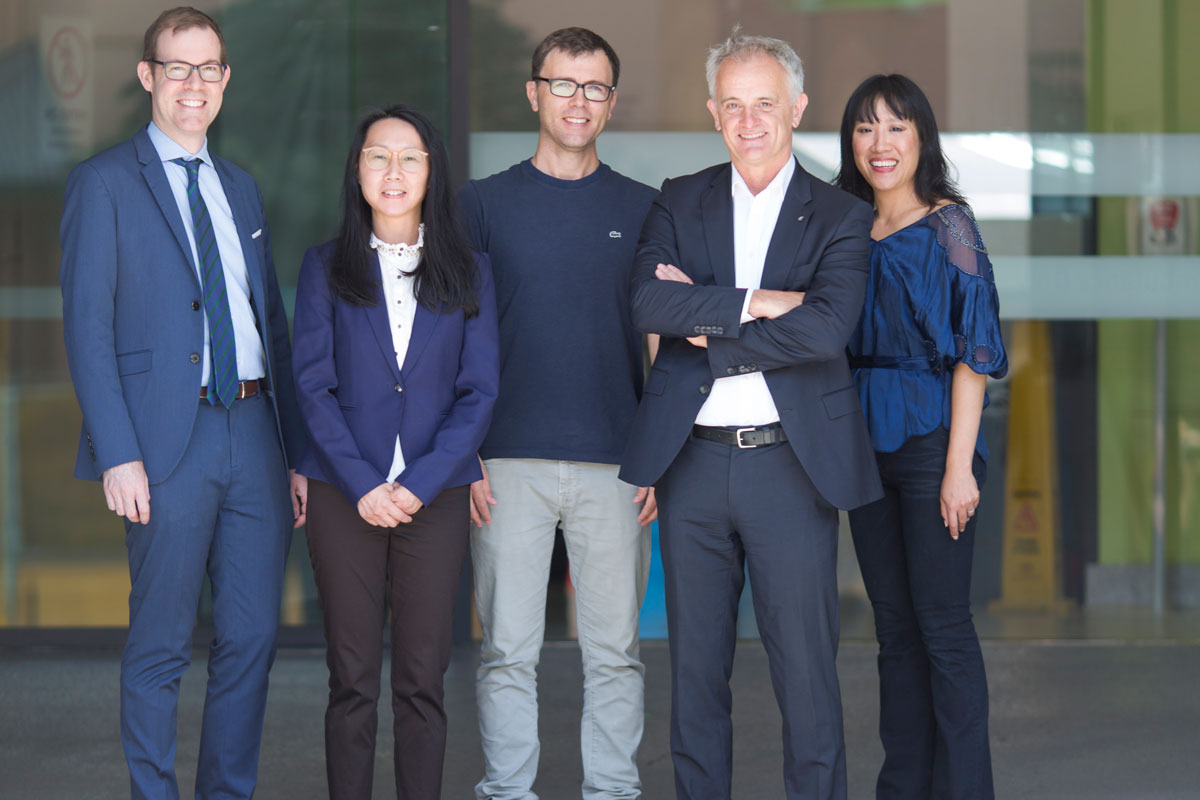 Team effort: (from left) Dr Nathan Kerr, Dr Elsa Chan, Dr Luis Alarcon-Martinez, Peter Larsen and Dr Jennifer Fan Gaskin. Photo: Anna Carlile.
New and better treatments
For patients who need surgery to control their glaucoma, it's important to ensure that the techniques we use and the drugs that aid recovery are as effective as they can be.
CERA's Principal Investigator of Ocular Fibrosis Dr Jennifer Fan Gaskin, along with Dr Elsa Chan and Dr Manisha Shah are investigating several possible drugs to reduce the scarring that can sometimes occur after surgery and cause operations to fail.
Principal Investigator of Glaucoma Surgical Trials Dr Nathan Kerr is also continuing his research into the surgical management of glaucoma, comparing new minimally invasive surgical techniques and implants to traditional therapies like eye drops.
Principal Investigator of Genetic Engineering Associate Professor Rick Liu is investigating ways to improve how glaucoma treatments are delivered. His research uses nanoparticles to develop new therapies that need to be administered less often and eliminate the need for more invasive procedures like injections or surgery.
Finally, Dr Flora Hui is investigating another potential way of improving the effectiveness of glaucoma treatments by combining existing therapies with a high daily dose of vitamin B3. Her upcoming study provides hope for a potential new treatment that could not only protect against ongoing vision loss, but also improve the function of cells that have already been damaged.
Between all these efforts, CERA researchers are working towards better outcomes for every aspect of glaucoma treatment from diagnosis to management.
Visit our 2022 Glaucoma Appeal page to make a donation and share our vision to beat glaucoma.